Lewis Greenstein
Jump to navigation
Jump to search
---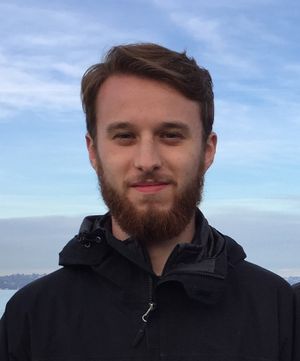 MakerSpace Ninja
Email: lgreenstein@tulane.edu
Phone: (206) 713-8740
Major: Ecology and Evolutionary Biology
Minor: Chemistry
LinkedIn: in/lewis-greenstein
ResearchGate: Lewis Greenstein
Profile
Biography
I am an ecology and evolutionary biology student at Tulane University interested in pursuing a career in healthcare. I believe in the importance of creativity in technical environments, science as a way of life, dabbling in business, and making meaningful art. Hailing from Seattle Washington, I enjoy free diving, biking, and hiking. Many of my current projects revolve around imitating biological mechanisms borrowed from insects and other arthropods.
Awards and Publications
Use of Probiotics to Prevent Clostridium difficile Associated Diarrhea in a Skilled Nursing Facility March 2017, JAMDA: This research abstract was the result of a quality improvement project to reduce primary CDAD in skilled nursing facilities. We found that taking probiotics for the duration of an antibiotic treatment and three days beyond greatly reduced CDAD in the facility. After my abstract was accepted to be published, I designed a poster, which was presented at the JAMDA PALTC annual conference in 2017.
Mars Medical Challenge, 2017: I was chosen as the national winner of the Future Engineers Mars Medical challenge: a competition sponsored by the American Society of Mechanical Engineers and the National Aeronautics and Space Administration. The goal of this contest was to design a 3D printable medical device for a manned mission to Mars. I designed a dual use pressure infuser and syringe pump powered by a blood pressure cuff. I was selected as the winner out of over 700 entries and was featured on the NASA website, multiple online articles, and interviewed by a local television station.
Maker of the Year 2018-2019: I was awarded Maker of the Year for my extensive work developing a method of creating soft actuators using multi-material 3D printing. There are more details on this project in the "In Progress Projects" section below and on ResearchGate.
Maker Skills
3D Printer operation, repair and maintenance (Ultimaker & Taz)
Laser Cutter operation, repair and maintenance (Epilog Helix & Fusion Pro)
Portfolio
Completed Projects
Lake Coasters: This set of lake shaped coasters was made as a gift. I used the laser cutter to cut the blue acrylic to the correct size and shape as well as the cork backing. The holder was made by cutting the shapes layered on top of each other in layers of wood allowing the coasters to overlap. The layers were then glued, sanded, and painted.

In-Progress Projects
Manufacturing of Soft Actuators using Multi-material FDM 3D Printing: The goal of this project is to explore the utility of using both dissolvable PVA and PLA filament in a FDM style 3D printer to create molds, cores, and embedded parts in soft actuators using a "lost material' process.
The first step in this project was to prove that molds and cores 3D printed in polyvinyl alcohol could be used create some basic actuators. The first actuator I made was circular and decreased its internal diameter when inflated. I then began experimenting with pneu-nets style curling actuators (see below for images of these actuators).
After these initial proofs of concept I began pushing the limits of this method by incorporating PLA parts into the actuators and making other functional components. The first actuator incorporating PLA components was only partially successful. I attempted to add ridges inside the actuator to restrict movement. The PLA components and core were successfully printed as a single part using multi-material printing. However, the silicone did not adhere effectively to the PLA resulting in air inflating either side of the PLA ridges as well as inside the actuator's ridges. This resulted less differential expansion, meaning it increased in length instead of curling effectively. However, the second iteration of this design was much more effective (first generation with black PLA, second generation with yellow PLA)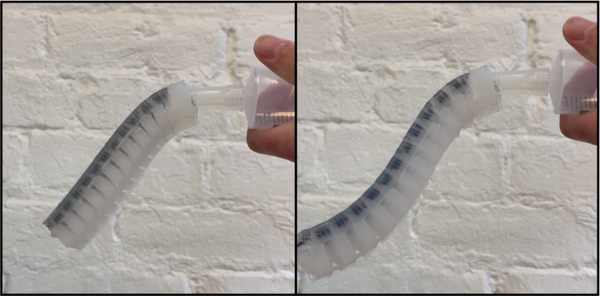 I also used this same method to create check valves, which I hope to eventually incorporate into actuators. I've gone through three iterations of the valve with each design showing improvement, but the general design has stayed the same. Each design has a flap of silicone cast on one side of a hole, allowing air to push the flap out of the way in one direction, but being sucked over the hole when moving the other direction (see images for cross sections of iterations 1-3). This kind of valve can only easily be created using the method I've developed.

For more detailed updates, visit my project page on ResearchGate.
Future Projects
Emergency Medicine Transcription: During my EMT training and time volunteering in emergency medicine environments I identified the need to be able to record relevant patient information hands-free. I have the project planned out, and I am currently trying to learn programming in Swift in my free time so I can start prototyping. If you have experience with smartphone app development, and you're interested in helping out, please shoot me an email!
---
---
Lewis Greenstein, Class of 2021, 15 January 2019 (CST)