Table Saw
Jump to navigation
Jump to search
Table Saw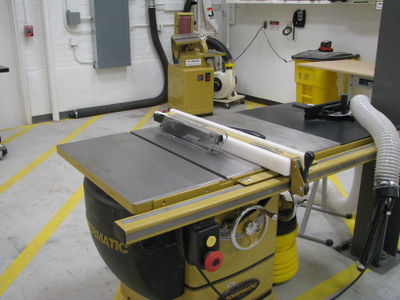 This 3 hp table saw has a 10" blade and can cut large sheets of plywood. Don't use it without faculty supervision. The vacuum dust collector must be connected and powered to keep the shop from filling with sawdust.
Machine Info
This machine is a Powermatic 10 inch table saw.
Manuals can be found at http://makerspace.tulane.edu/index.php/File:Powermatic_10_inch_Table_Saw_PM2000.pdf
PPE instructions can be found XXXX.
Replacement blades for this saw should be XXXX and can be ordered from Fastenal or McMaster.