CNC Mill Training
Jump to navigation
Jump to search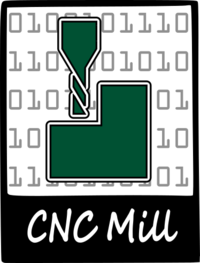 This is advanced training to allow the user privileges on the Tormach PCNC vertical mill.
Step One
Read through this step-by-step manual and contact a training Fab Tech to make an appointment to do the hands-on portion of the training. Allow 3-4 hours.
Step Two
Make an appointment with an approved Fab Tech trainer. A list of approved trainers is available in the MakerSpace.
Working with your training Fab Tech, create the part shown in the manual, starting with a 6" long block of 2x4 lumber to demonstrate your ability to use the mill.
This training allows for use of the mill in "conversational" mode. If you want to use the CNC mill to create a part that was designed in Fusion360 or Solidworks, ask your training Fab Tech to get you started on this additional step.