Cura
Jump to navigation
Jump to search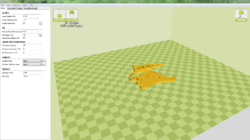 Cura is a slicing software that sets the options for a 3d printer to follow and then creates detailed instructions for the printer by creating a g-code file. This file can be saved to an SD card and transferred to the printer.
Cura allows you to arrange, orient, and re-size your design file before printing. It also has option to automatically calculate things such as the top- and bottom-layer thickness and how much in-fill your printed object needs.
Note that Cura is not software that can be used to design a model, it is simply a program that takes a final 3d design and translates it into the printer's language. For designing 3d objects, look into using AutoDesk Fusion 360 or Solidworks.
Availability
Cura is open source software. Anyone can download and install it for free on their personal computer. We recommend the version produced by Lulzbot, maker of the TAZ 3d printer. It works with both the TAZ 5's and our Ultimaker 2, and is available for Windows, Mac, and Linux.
Install Link: https://www.lulzbot.com/cura
Getting Started
For more information on Cura, please see this downloadable pdf from Lulzbot [1]
For information regarding setting up Cura for each of the 3D printers in the MakerSpace, refer to the pages for each of the printers:
Other Resources