Hexagon Extruder TAZ 5
Jump to navigation
Jump to search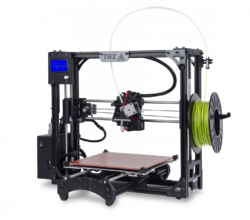 The LulzBot TAZ 5 has a number of advantages over the Ultimaker 2. These include a larger extruder nozzle, allowing for faster printing, a larger build volume, an extruder with the ability to use a wide range of filaments, and generally better print quality and a more robust design. The PEI print surface makes bed preparations, such as glue stick, unnecessary for PLA and ABS printing.
Cura Configuration
Open the LulzBot version of Cura and follow the following steps:
Click the "Machine" drop-down menu and select "Add New Machine".
Select "LulzBot TAZ 4 or 5" and click next.
Select "Stock TAZ 5 (PEI & v2)" and click next.
Select "0.5 mm" and click next.
Click "Finish".
Recommended Print Configurations
Hexagon Extruder TAZ 5 Print Configurations
Technical Details
0.5mm nozzle
300C maximum extruder temperature
120C maximum bed temperature
PEI print bed
Print Area: 298mm x 275mm x 250mm
Top Print Speed: 200mm/sec
Bed Leveling
The bed leveling procedure...
Miscellaneous Notes