Difference between revisions of "MakerSpace Access"
Jump to navigation
Jump to search
Line 30:
Line 30:
 

==Hours of Operation==

 

==Hours of Operation==

 
 
−

'''The Ackerman MakerSpace will be open for limited hours during Thanksgiving break. Please see the schedule below. We will re-open for normal fall hours on Monday, 29 November'''

+

'''The Ackerman MakerSpace for . We will re-open for normal hours '''

−

 

 
−

[[File:MakerSpace fall2021v5.png|1000px]]

 
 
 
 

Please re-check this page often and join the LISTSERV below for announcements.

 

Please re-check this page often and join the LISTSERV below for announcements.
---
Revision as of 20:32, 18 January 2022
Location
The Scot Ackerman MakerSpace is on Engineering Road, along the boundary between the Tulane and Loyola campuses. Look for the yellow I-beam.
Due to the construction project for Paul Hall, you can only access the MakerSpace entrance from Engineering Road at the Stanley Thomas side of the Engineering complex (see map below).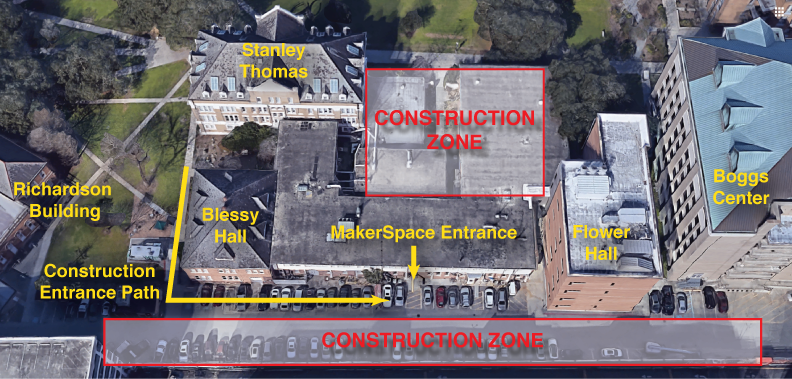 (source: Google Earth)

Our Maidenhead grid locator is EL49WW54LV
Our what3words grid is parts.leaps.darkest
Our entrance, shown on this Google Map, is at latitude 29.9370740, longitude -90.1210170 or you can search for WVPH+RH on Google Maps.
Contact
Email: makerspace@tulane.edu
Facebook: https://www.facebook.com/MakerSpace.Tulane/
Hours of Operation
The Ackerman MakerSpace is currently closed for Winter Break. We will re-open for normal spring hours soon.
Please re-check this page often and join the LISTSERV below for announcements.
We use a LISTSERV mailing list for contacting MakerSpace users, all users are added to it automatically. Instructions to send mail, read archives, or unsubscribe from the LISTSERV are here.
Training
Preventing injury to people (and equipment) is our first priority. To do this, users must demonstrate knowledge and competence. Users can earn a "badge" that certifies their competence. The various badges, and the equipment authorized by that badge, can be found under the Safety and Manuals section.
Software skills are needed to operate the CNC tools, the water jet and laser cutters, and the 3D printers. We offer Training Courses during the academic year.
Along with the badge, the user's RFID card will be recognized to turn on power to equipment. For example, a user who's completed the requirements for the Metal-1 badge will be allowed to use the drill press, vertical band saw, and some of the portable tools. See Machine Access System for more information on how the system works.
Policy on Contracted Projects
The MakerSpace is a place where students, staff and faculty create useful and esthetic objects. They are "makers" and this means that they realize their designs in a hands-on manner.
Persons who are not members of the Tulane community (defined by possession of a currently valid Splash card) are not allowed to use any facility in the MakerSpace.
From time to time, a member of the Tulane community may need an object built in the MakerSpace, but may not have the skill to build it. They will approach a Ninja for help, offering to pay for time and materials. This policy defines the process and rules for that transaction.
1. The first step is a drawing and a bill of materials, prepared by the client in consultation with the Ninja who is willing to undertake the project. The Ninja also provides a written time-line and estimate of labor cost to the client. The drawing, bill of materials, and labor cost estimate are forwarded by the client to makerspace@tulane.edu
2. If the job is accepted by MakerSpace management, the client will be asked to create an Interdepartmental Transfer (IT) so that the MakerSpace account can be credited. An overhead charge of 20% will be added.
3. Trivial materials (PLA filament, 1/8" plywood, fasteners) are provided as part of the overhead charge. Any other materials are to be provided by the client. Clients who want to use existing MakerSpace material stock will be charged for the replacement value found at mcmaster.com. Scheduling is negotiated between the Ninja and client, who needs to respect the status of the Ninja as a student undertaking this work in extracurricular time.
If the scope of the project changes during the build phase, or the labor cost estimate proves to be inaccurate, a collegial exchange of e-mails including makerspace@tulane.edu is the preferred method of keeping all parties informed as the problem moves toward resolution.
When the project is completed, the IT will be closed out and all parties informed of the final cost.
current as of 10/5/2017 makerspace@tulane.edu
For Grant Writers
The School of Science and Engineering hosts the University's state-of-the-art Scot Ackerman MakerSpace, located on Engineering Road in the heart of the School's complex. This facility is open and free of charge to all Tulane students, staff, and faculty, and provides access to and training for rapid prototyping machines, including wood shop, and electronics laboratory.
The main floor (2,896 square feet) houses a 30" x 60" water jet cutter, 13 3-D filament printers, 3 laser cutters, a 4-axis CNC milling machine, a CNC lathe, a CNC router, a fully-equipped machine shop, and a supply storage area.
The wood shop (730 square feet) has a table saw, sliding miter saw, power sanders, band saws, and a drill press in addition to assembly space. A closet holds 3 high-resolution 3-D resin printers.
The Gallery for Ideas, Design and Strategies on the mezzanine (923 square feet) has design and conference space.
The Product Development and Innovation Room (1,026 square feet) has dedicated benches for in-progress projects, a classroom area for tutorials, training and communication, a demonstration area with a Clausing lathe and Bridgeport milling machine, and an electronics fabrication studio.
Multiple staff members are on-hand for 45 hours per week to assist in training and project design, and computers and design software are available on-site for project design and development.