Project Guides and Tutorials
Jump to navigation
Jump to search
Instructables
There are thousands of free projects and plans available on the Instructables website for just about any kind of idea, you can simply browse through their main sections or search for a specific type of project to find plans, schematics, videos, and instructions to build or modify their projects yourself.
Make Magazine Skill Builders
Each of these external links to the Make Magazine web site covers a very specific skill. If you're unfamiliar with a tool, material or process, these are the best way to get the background you need.
List of Popular Skill Builder Topics
Full list of all Skill Builder Topics
Measuring with Digital Calipers
Tape measure tricks and features
Types of bearings and how to use them
Soldered protoboards for electronics projects
Using a carpentry speed-square
Cutting and bending Plexiglass sheets
Carving and smoothing structural styrofoam
Workpiece layout - finding the center
Repairing failed 3d prints with hot melt glue
Sculpting and smoothing with Bondo auto body filler
Choosing the right tip for a soldering iron
Choosing the right wire strippers
Taking photos of small objects
First intro to Arduino - make a light blink
Design tools for joining laser-cut parts - also works for CNC
Welding smoothing riveting and painting 3d printed objects
Dual extruder 3d printing - getting started
How to cut, glue and drill PVC pipe
Using .stl files on the laser cutter

The tabbed box is one of the simplest and most useful things to design for the laser cutter. There are several online applications that will take your input and allow you to download an .svg file that can be incorporated into Inkscape, CorelDraw, or Illustrator. In my view, using an Inkscape extension is by far the easiest way to design your box and make adjustments right in Inkscape itself.
Instructions for Making a Tabbed Box using the Laser Cutter
Download BoxMaker for Inkscape 0.91.zip
Simple online service: MakerCase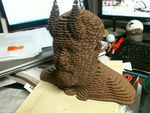 The laser cutter can be used to create 3d models by cutting individual thin layers and then stacking them together to create a full size object. This is useful for creating prototypes that may be too large to be 3d printed.
Instructions for Creating Stacked 3d Models using the Laser Cutter
Download AutoDesk 123D Make
If you have designed an object for the laser cutter (such as a box) using Solidworks, this will show you how to transfer your Solidworks models into Inkscape files to be sent to the laser cutter.
Instructions for Transferring SolidWorks Drawings to the Laser Cutter (.pdf)
Often 3d printed objects may not be in the correct color or may have a rough texture (especially with quicker prints). There are a number of methods for finishing 3d printed objects, included here are simply a few suggestions.
Instructions for Finishing a 3d Printed Object
Acrylic is one of the best materials to use on a laser cutter because of its versatility, transparency, and ease of cutting/etching. However, acrylic is notoriously difficult to bond with glues and other adhesives in a clean fashion and scratches easily when trying to remove unsightly residue. Welding acrylic is easy to do with the right materials and can create incredibly strong bonds with little to no residue left over.
Instructions for Welding Acrylic
Add to your resume with a simple profile of your Maker skills and a portfolio of your projects.
Instructions for Create Your Own Maker Profile/Portfolio