Scot Ackerman MakerSpace at Tulane University Wiki
Jump to navigation
Jump to search
A MakerSpace has been described as new amalgam of art, craft, and technology. Our goal is to serve all makers, and potential makers, in the Tulane Community. We do so by providing tools, assistance, and ideas. A discussion of the history and possible future of maker spaces can be found here
Breaking news
Through the generosity of two Tulane alumni, the Maker Space is proud to present competitive cash awards this year. Inspired by the work of John Riddell and J. Lawrence Smith, Professors of Chemistry at Tulane before the Civil War, this gift was made to encourage students to explore their creativity in designing and innovating technology. Riddell and Smith are credited with inventing the first practical microscope to enable binocular viewing as well as the inverted microscope. In an effort to recognize the next innovative breakthrough on campus, these cash awards will be given for a student project completed in the Maker Space. See complete specs: 2016_Maker_Space_Awards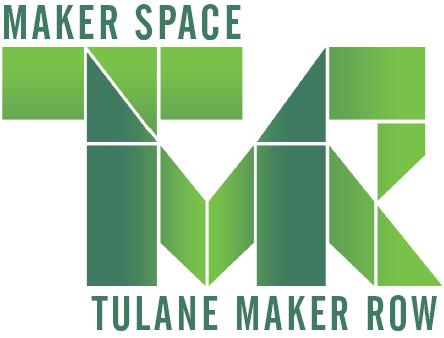 Main Categories
Hours, location, and contact information.
A list of software programs that are available to students, with notes on their use.
Links and information concerning the available rapid prototyping tools, including information on training and safety.
Information and links to training documents concerning fixed (not handheld) power tools and processes.
A list of handheld tools(including some handheld power tools) that Makers can expect to find in the workshops. The list is a general snapshot and will not be a detailed/comprehensive inventory.
Information about suppliers and other online resources.
Samples of projects and instructions for doing them yourself.
Examples of projects built in the Tulane MakerSpace.
Information on those involved in building, managing, and improving the Tulane MakerSpace.
Methods for supporting the Tulane MakerSpace
The New Orleans Maker Community
New Orleans has a long history of artistic creation, and that creativity is now expressed in a vibrant maker community. The Tulane MakerSpace is proud to be a part of this community. Other members include
Wiki