Table Mounted Saws
Jump to navigation
Jump to search
For information on safety and PPE requirements for each machine in the MakerSpace, see the Job Hazard Analysis forms.
"Blade Runner" Jigsaw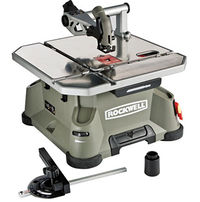 This small jigsaw is used to freehand shape thin wood or plastic. It can also be used with very thin metal, as detailed in the manual. The primary advantage of this tool is that it can cut curves easily.
Machine Info
This machine is a Rockwell RK7320 with accessories for disc cutting and for making picture frames.
The manual for the saw can be found here [1] The manual for the circular cutting tool is here: [2]
Replacement blades for this saw should "Bosch" style jig aw blades with a "T" shaped end.