Difference between revisions of "Training Courses"
Jump to navigation
Jump to search
Line 53:
Line 53:
 

CAD on the Carvey

 

CAD on the Carvey

 
 
−

Meshmixer for STL file editing

+

Meshmixer for STL
---
Revision as of 22:07, 16 February 2019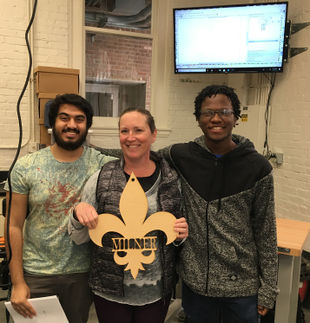 We're offering student-taught tutorials on popular software used in the MakerSpace. Classes meet in SE124, the new MakerSpace Project Room. Invitations are sent to all registered MakerSpace users early each week. We have seating for 10 learners. Bring your laptop, with the software already loaded, and our Maker Ninjas will help you learn new skills. Thanks to the Makers and Robotics Society (MARS) for developing the handouts.
| Date/Time | Topic | Instructors |
| --- | --- | --- |
| Sat 2/23/19 10:00AM | Fusion360 II More features | Ian and Robert |
| Sat 3/16/19 10:00AM | CAD on the Carvey (requires Fusion360 I) | Afsheen |
| Sun 3/24/19 10:00AM | Inkscape I for beginners | Ian, Robert |
| Sun 3/31/19 10:00AM | Fusion360 I Introduction for beginners | Kyra, |
| Sun 4/7/19 10:00AM | Meshmixer for editing STL files | TBA |
| Sat 2/9/19 10:00AM | Inkscape II for intermediate users | Daniel, Nathan and Robert |
| Sat 2/16/19 10:00AM | Fusion360 I Introduction for beginners | Dylan, Kyra, Ian and Robert |

Handouts used in these seminars
Inkscape II for intermediate users
CAD on the Carvey
Meshmixer for editing STL files